It has been 25 years since my father died. It's such a long time that I am tempted to say I don't remember that time any more… But saying something like that wouldn't be true. Anyway, today I don't want to write about my father.  I want to write about my mother instead, about our life with her, without a father, about those 25 years. And it's not going to be a sad story at all.
My mother: during the years of grey and gloomy socialism, she painted our fridge with yellow and red color, and then used a fork to create some kind of pattern on it. Later she painted fairytale figures on my, and my sisters beds (any many years later, using just a white chalk, she painted a beautiful tree on the wall in my new apartment, exactly the one I wanted!). She used to draw very funny cartoon jokes and I'm pretty sure they could be printed in The New Yorker magazine. And when my sister cried that she wants a dog, she made her a sweater with a dog kennel on it, including a small dog inside. "Now you have a dog! And you can take him everywhere you go!" she said.
I will stay with the sewing topic for a while. My mother used to sew the most beautiful dresses in the whole city! Some time ago, while visiting my home town, I met one old lady who used to be a known painting artist. She told me: "I will never forget those beautiful dresses you used to wear!" And I was just smiling and proud of my mother's success. But more to follow: once she made a most bizarre carnival costume for my sister – half a woman and half a man's dress! It was a half skirt/half trousers combination, so crazy that it's almost impossible to imagine it!  Even nowadays my mother sews for us and believe me, it's a goddam good feeling when even a woman stares at your dress on the street! And if somebody has a better outfit than me, it's probably my mother, just look at this picture: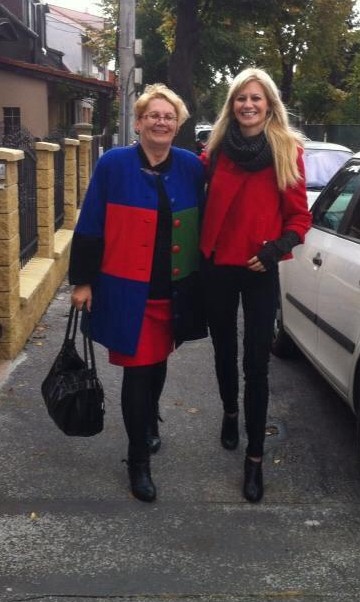 The last bit about sewing: for my prom day at the university (run by Catholics), my mother made me a super mini dress. Nobody remembers that I got a diploma with honors, but everybody remembers my super mini sexy dress.
Same she did with my uniform when I used to work as a Flight Attendant later. She cut the skirt by few centimeters saying: "let's make it a bit more interesting…"
Lately she made me a mini-dress from her old pajamas.  So here's my personal tip: don't try to fully explore your mother's bravery and commitment. No need for that. Mothers have this temptation to fulfill you every single wish, no matter how bizarre it is.
When I was in the third year of elementary school, she recommended me to read a Joseph Heller's book "Good as Gold" and make a work about it for my literature class. I still can't believe that I actually did it. My teacher must have been shocked. My passion for reading comes definitely from my mother. When we used to live in Kezmarok, she probably read every single book in the local library, so when the new piece arrived, librarians just put it aside for my mother.
My mother used to like all our crazy friends, including the local punks. They always had a funny conversation with her. Once she died my sister's boyfriend's hair. I think he is a teacher at a university now. What a times for Christ sake!
In the interview for a local news TV station, my mother said that we were good kids and never had fights at home!
Like all other relatives, I introduced my mother to the world of volunteering for my charity project Pluto. Now at age of 60 she became a micro-entrepreneur and (under my kind command) she became a manager of the first charity shop in Slovakia, selling handmade products from dozens of sheltered workshops.
Lately, she went for a one day "business trip" to the eastern part of Slovakia by train, returning with the suitcase full of products for our charity shop. In the train, she met a lady who agreed to manage a workshop for our charity project for free. My mother works at our charity shop for less than a minimal wage, while still having her second job in the office. And she never complains about my managerial style that I have to confess is quite close to a dictator's regime.
I would like to say something pathetic at the end, but last 25 years changed me in a way that being pathetic is not my style. I just want to publically say a big THANKS to my mother for her humor, inspiration and bravery. Because I think that these virtues are the most precious and needed ones in this world, nowadays.