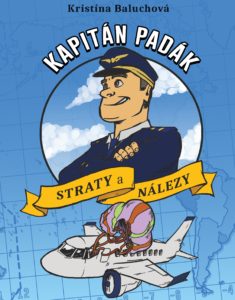 Kapitán Padák & Straty a nálezy (2016)
Zatúžili ste niekedy lietať? Ľahká pomoc! Kapitán Padák vás pozýva na palubu Boeingu 737, ale predovšetkým na nevyspytateľný výlet okolo našej planéty. Okrem nových informácií o ovládaní ťažkého stroja vo výške niekoľko tisíc stôp sa dozviete čo-to o cestovaní v čase, fyzikálnych javoch v praxi a naučíte sa používať leteckú abecedu. Prvá zo série kníh pre mládež i dospelých o dobrodružstvách kapitána Padáka niektorým pripomenie poľského hrdinu podobného kalibru z minulého storočia – pána Tragáčika. Daniel Padák, jeho sestra Eva so smiešnou prezývkou z detstva, dávny kamarát Peter Kufor (dobrodruh na plný úväzok), no predovšetkým neterka Ivanka (ako inak: pomenovaná po bratislavskom letisku) – to sú hrdinovia jesenného príbehu, vďaka ktorým sa budete premiestnovať rôznymi zemepisnými dĺžkami, šírkami i letovými hladinami.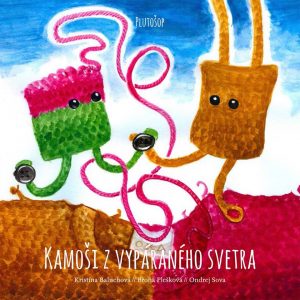 Buddies from a ripped cardigan (2015)
Do all unneeded things have to end up at a junkyard...? How did the book about little characters from a ripped cardigan come to life?
Brona Pleskova, an art therapist, crocheted 15 unique little characters from useless wool threads. Their life stories were created through poems by a writer Kristína Baluchova. Illustrations come from the brush of Andrej Sova who turned "the junkyard" to an exhibition hall.
Sharpened Rose, Passionate Traveller, Hairy Bumblebee, Jingly Moustache... all these are funny stories from an undone cardigan. At the first sight useless and unwanted wool threads changed into real characters entertaining both children and adults and possibly bringing the environmental and educational lesson, too. Buying this book means a direct support of OZ P(L)UTO existence.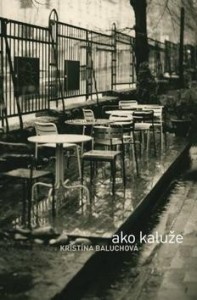 Ako kaluže (2014)
Kristína's first poetry collection, with beautiful photographs from her dear friend Roman Ferstl.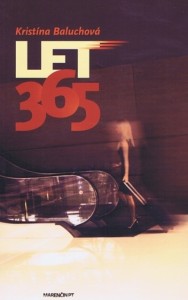 Let 365 (2013)
Experienced pilot is boarding the flight to Lagos from Dubai where he encounters a strange incident. At that time he doesn't know how close is the tragical destiny of an unknown foreigner to life of his own daughter. And he is not with her, to protect her. He never was... This sore, vulnerable story is full of melancholic mood, so typical for travellers' souls.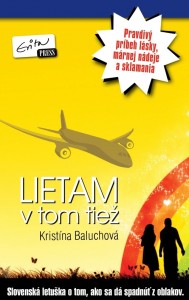 Lietam v tom tiež (2011)
Leonardo da Vinci said that once you learn how to fly, you will never be able to walk and watch the ground. "Lietam v tom tiež" is a nostalgic novel, describing the story of an ex- cabin crew, including the postscript based on facts.
About the Author
Kristina was born on the 5th of April 1983 in Kežmarok, Slovakia. She studied high school with specialization on foreign languages and graduated at the Faculty of Arts, her major was psychology. She completed the cognitive-behavioural psychotherapeutic training (2014), attended courses in HR management, a short Buddhism course in Nepal and many others. She has worked for five years as cabin crew, after graduating as s psychologist in social sphere. Kristina is a founder of a civil association called P(L)UTO
www.ozpluto.sk
(2011) that focuses on social inclusion. Currently she lives and works in United Arab Emirates, beside writing she works in nonprofit sector. She takes pleasure in literature, music, yoga, aviation and SAAB cars.
About Pluto
"If you are not stroked your spinal cord will shrivel up."
Eric Berne
I have a dream about freedom, about a planet with better creatures, caring more about each other, being more friendly, modest, more mindfull, willing to humanize the humanity.
In 2011 I have founded a small NGO P(l)uto (www.ozpluto.sk) that supports the creative productivity of hendicapped people and promotes the vision of social inclusion. We have opened a charity shop called Plutoshop in Bratislava, Slovakia, where we present the products of approx. 25 sheltered workshops, institutes of social care or homes for elderly and other non profit organisations from all over Slovakia.
We are trying to work without massive sponsorship, our activities are be based on volunteering, the selfsustainability of our projects, good will of our donors and my income from my books. (By buying my second book you are directly supporting Pluto)
With grateful regards....
Kristína